Casual vs Formal Dining Set
How to Choose Your Perfect Casual or Formal Dining Room Set
Whittington Cherry Dining Room Set Featuring Gray Upholstered Side Chairs
The dining room is much more than a place eat. It's a spot to talk, laugh, and spend time with the people you love. It's a venue to host big, lavish parties and small, intimate gatherings. It can even make a statement about your personality and your flair for hospitality.
With a room that needs to do so much, it can be hard to decide how exactly to decorate. Should your dining room be more foie gras or French fries? When deciding on buying a formal vs. casual dining room set, a few questions may help to guide your decision.
Is the Mood Laid Back or Buttoned Up?
Choosing a casual or formal dining room set is all about creating the right atmosphere. Furniture at odds with the room and occasion will seem off for the same reason you'd feel awkward going to a job interview in sweats or dressing in a black-tie ensemble for a football game. Style always has a context.
To find the right fit, match the formality of your dining furniture to how you will use it. Base your choice between a formal or casual dining room set on how you typically dine.
Aylesbury Cherry Dining Set with Matching Chairs
Let Form Follow Function
People who host regular official functions, such as fundraisers or receptions, will get the most use from a formal dining room set. Made with beautiful china and fine cuisine in mind, these collections feature luxury elements like rich hardwood, marble tops, and gold leaf details. Such materials require care and attention to stay in peak condition.
On the other hand, if you're interested in a multipurpose spot for everyday meals, homework, crafting, and more, a casual dining room set may be just your speed. Tables and chairs with a relaxed vibe are a natural fit for family dinners or chill get-togethers and can typically stand greater wear and tear than their formal counterparts.
Brown Counter Height Dining Set with Bench & Chair Seating
Do You Need to Choose?
From space constraints to a tight budget, there are plenty of reasons why you might be stuck picking between casual or formal dining sets. However, many people actually have room for both if they're willing to see empty corners in a new light.
While floorplans vary, there are at least three places in a home that sensibly accommodate a dining table, a formal dining room, an open-concept area, and a kitchen. Depending on where you have the space, you may be able to furnish multiple dining areas with varying levels of formality.
Formal Dining Rooms
Traditionally, formal dining rooms are somewhat closed-off and separate from the rest of the house to create a quiet, dignified setting. If you have a classic dining area, this is the place to put a formal dining room set. Casual tables and chairs are easy to blend into a multipurpose space, but grand designs demand attention.
Even if your home features mostly open areas, you can still make a formal dining set work. Installing French doors in a room with cased openings is an easy fix for a little privacy. Stylish room dividers can achieve a similar effect and let you skip remodeling.
Cindy Crawford Madison Place Sectional with a Brown Ottoman & Patterned Seating in an Open Dining Area
Open-Concept Eating
Open-concept homes feature mostly combined living areas rather than rooms with their own roles. As a result, it falls to you to decide how to split up your space. Corners provide the perfect nook for a round table, while long walls work well with rectangular or oval sets.
Delineate the dining space with a large rug and a statement light fixture. Depending on the decor you select, this setting could lean towards elegant or laid-back. A long banquet table just off the living room is excellent for parties and quiet evenings at home, as conversation can flow between the table and seating area. For a cohesive design, keep tones, styles and formality of furnishings similar in adjoining spaces.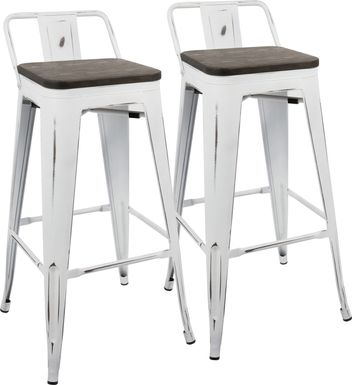 Low-back White Counter Height Barstools
Minimalist Wooden Pub Dining Set Featuring Counter Height Seating
Kitchen Table Casual
Sometimes you just want to sip your coffee or grab a quick bite without the ceremony of a sophisticated table setting. A few barstools around a kitchen island or a small bistro dining set create the perfect place for unfussy meals and afternoon snacks. With their pub-like feel, counter-height dining sets are another popular choice for kitchens.
Cindy Crawford Heatherwoods Wooden Dining Room Set with Matching Chairs
What About Combining Casual and Formal Dining?
If there's only room for one table at home, your best bet to strike the right chord for any event is a mix of formal and casual dining room decor. Most people's lives consist of some fancy dinners and some easygoing meals, so a table set that can work for both makes a worthy investment.
Sofia Vergara Savona Contemporary Dining Room Set with Padded Side Chairs
It's All in the Accessories
Promoting a dignified or relaxed mood has a lot to do with decoration. A vibrant rug underneath a formal dining set gives the suite warmth and energy, while a vintage chandelier brings a touch of class to a laid-back collection. Completing your room with an elegant curio to display your fine china will dress the space up while a rustic server adds a relaxed touch.
Decorations on the table matter, too. A pair of metal candlesticks, a delicate lace tablecloth, and decorative metal charger plates can dress up your casual dining room set with a little fanfare. Create a simpler, homey look with a vase of wildflowers and woven seagrass placemats.
To find a dining room set you can dress up or down, stick to simple shapes and embellish with accents. For example, a farmhouse table with classic turned legs will look sweet and rustic with a checked tablecloth or chic and refined with a modern chandelier.
French Country Dining Set Featuring Multi-Colored Chairs
Selecting a Style
Elegantly undone decorating styles are perfect for this type of space, as they naturally bring together the sophisticated and the everyday. For example, consider a French country casual dining room set with an ornate design and a weathered finish. Transitional tables also combine contemporary comforts and classic silhouettes for a design that's put-together without being stuffy.
Make It Your Own
When weighing the merits of casual vs. formal in choosing a dining room set, remember that you have options. Pick one, try both, or mix the two for effortless elegance. Express the character and hospitality of your home with the dining room furniture that speaks to you.