Video Game Room Ideas: Furniture, Setup, and Design
Setting Up the Perfect Video Game Room
Level Up Your Gamer Space
With the rise of esports and streaming gameplay, more gamers than ever want to show off their gear and escape into an MMO in their own video game room. Online forums full of gaming room ideas make it easy to spend years perfecting your setup, but who has the time? Our guide will help you focus on the essentials to design a space that works for you.
Location, Location, Location
Before you can get into creating an RGB wonderland or game streaming studio, you need to decide where you're setting up. Even if you don't have the space for a dedicated video game room, there are plenty of options with a little creative thinking.
Choosing the Right Room
Basement
Sure, they're a gaming stereotype, but there's a reason basements are a popular game room idea. Separate from the rest of the home, basements offer peace and quiet so you can focus on your high score.
For peak play in this dark room, lighting is a priority. Light behind a monitor softens the contrast of bright screens against a blank wall, preventing eyestrain and creating a more immersive gaming experience. As you shop, consider options that fit your style. Ultramodern gamers might go with LED strips or minimal desk lamps, while funky retro lights fit right in with classic arcade memorabilia.
Office
Since a home office already revolves around a desk and chair, it's a natural place for PC and console gamers to set up shop. The biggest hurdle in pulling off an office video game room is keeping work and play separate.
One solution is creating separate stations for business and pleasure. Use one side of an L-shaped gaming desk  for a work monitor, printer and file storage, and deck out the other half with your PC build, controller, chargers and collectibles. Moving between the two spaces lets you mentally adjust to the task at hand.
Living Room
Many console gamers use their family sofa and TV as a cozy video game room. The addition of a gaming desk and chair against the wall can work for PC users as well, bringing gameplay into a shared space so everyone can enjoy playing together.
The issue with a living room gamer space is combatting clutter. In a room used for so many things, loose cables and remotes take over in no time. To stay organized and protect your gear, make smart use of storage. Consider a TV console with drawers and shelves to showcase your stuff while keeping it safe and neat.
Bedroom
For gamers making do with a dorm or studio apartment, the bedroom is often the only choice to put your gaming room ideas into action. Since it's a private space made for comfort, a bedroom can be ideal for video games.
Try mounting a monitor on a swing arm to play from the desk or the bed. Stash controllers and accessories in a nightstand and use shelves to double as wall decor and a game library.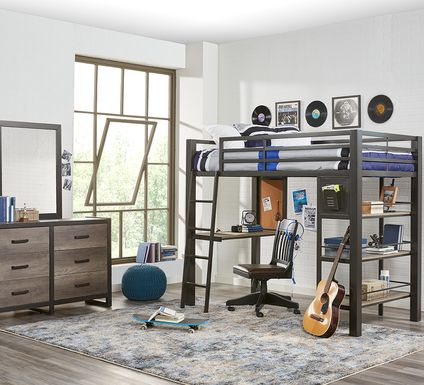 Colefax Avenue Gray Full Loft Bed with Desk & Bookcase
A Throne for Games: Creating Your Gaming Setup
Deciding which furniture to use for a video game room comes down to the way you like to play. We've got you covered with game room ideas for all your favorite systems.
Desk and Chair: Perfect for PCs
PC gamers take a lot of pride in their battle stations, from multiple monitor setups to slick cable management. Still, when it comes to aesthetics and comfort in desktop gaming, nothing is more important than picking the best gaming chair and desk.
Shape, storage and features should be at the top of your list when shopping for gaming desks. If square footage is an issue, rectangular gaming desks are great space savers. On the other hand, streamers with video, audio and lighting equipment should look into an L-shaped desk to benefit from the extra surface area.
In terms of features, pick the add-ons that make your life easier. Some gaming desks come with built-in headphone hooks, USB charging stations or integrated mouse pads. If you have a stacked dual monitor setup, adjustable height can literally save your neck during long gaming sessions.
There are a massive amount of gaming chairs on the market, so it's easy to get suckered in by styling. Although the best gaming chairs are sleek and modern, they're also comfortable. Search for ergonomic design plus adjustable height and lumbar support to get a custom fit. Armrests are vital for PC gamers to avoid pain in the shoulders, neck and wrists.
When you've covered these basics, it's time to factor in style. Continue a color theme with chairs in bright fabrics. For a neutral look, a classic black or gray racing chair makes a solid foundation for any color palette.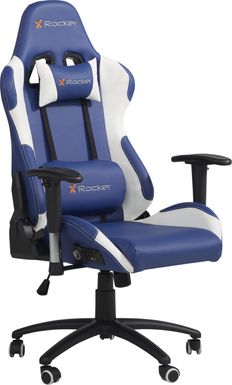 Kids Sound Trek Blue & White Gaming Chair
Lounge Chair and Ottoman: The Solo Console Gamer
For console gamers longing to think beyond the desk, a lounge chair, TV stand and monitor can transform any room into a gamer space.
To choose the best gaming chair, think about your needs. A power recliner offers support for your legs, arms and back, while a modern chair and ottoman combo provides a convenient footrest or a landing spot for controllers and snacks. Or, add a little exercise and movement to long hours of gaming with a rocker that sits on the floor.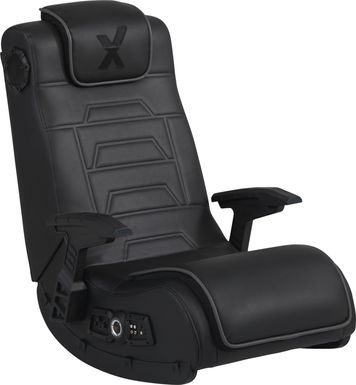 Kids Sound Trek Black Gaming Floor Rocker
Sofa or Sectional: Multiplayer Perfection
Friends that play together stay together, so a sofa or sectional video game room can be ideal for co-op gaming. The main decision you need to make is whether to go with seating designed specifically for gaming or a traditional couch.
In some cases, gaming sofas are the right way to go. Integrated features like Bluetooth and speakers can optimize gameplay and eliminate the need for other electronics. Modern styling made with video game rooms in mind is another big plus for some gamers.
On the other hand, extra features and gaming-specific products may drive up prices. A modern leather sofa can be a comfy and stylish place to game. Or, look into smart couches with built-in cup holders, LED lighting and USB ports to enjoy some premium amenities.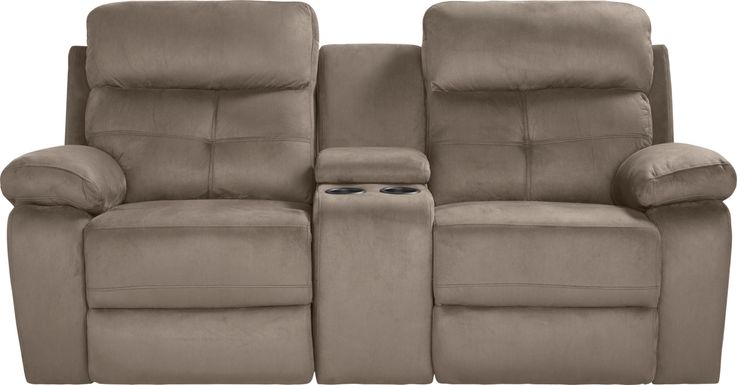 Corinne Stone Reclining Console Loveseat
Beanbags and a Rug: Arcade and VR Nirvana
If you're into arcade machines or motion systems like VR, a traditional gaming desk or gaming chair can leave your space feeling cramped. To keep the area of play clear, consider arranging a large rug in the center of the room. Steer clear of shag rugs or anything that will trip you up.
Kinetic games are so much fun to watch, so make sure to include a space for friends and family to cheer you on. A few beanbag chairs make fun occasional seating. They're lightweight, easy to move and more affordable than standard chairs.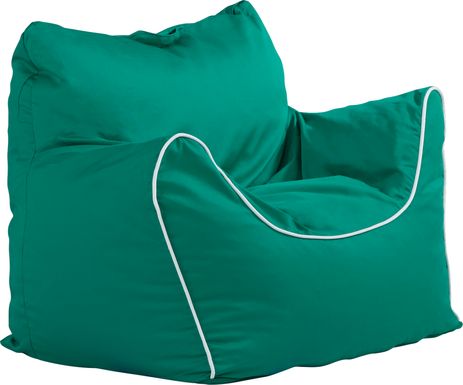 Kids Cassidy Emerald Bean Bag Chair
A Gamer's Paradise
At the end of the day, your gamer space is your happy place, so it should reflect the familiarity and excitement of your favorite first-person shooter or a brand new release. After getting the basics of location, furniture and layout in place, decorating your space is simple. With just a few of these gaming room ideas, you'll be on your way to exploring galaxies, slaying monsters or collecting loot in style.