Minimalist Home Guide
A Beginner's Guide to Minimalist House Designs
Do you ever get tired of the disorder and clutter in your home? If so, a minimalist lifestyle may be exactly what you need. Taking a step back and deciding what items are most necessary is the first step toward a new, organized beginning. With this handy minimalism guide, you'll learn how to downsize, remove the mess and select furniture you really love.
What is Minimalism?
The common misconception about minimalism is that it's all about purging things and leaving your home looking empty. On the contrary, the concept is about identifying and minimizing distractions in your life. Rather than simply throwing things out, this method helps you narrow down what you need the most.
Many people think that embracing minimalism means living a boring lifestyle. In actuality, people who practice minimalism free themselves from routine tasks like shopping and organizing, leaving them to pursue interests, travel and relax. Additionally, buying fewer things saves money, allowing you to purchase higher quality products.
One of the growing movements that adheres to this approach is minimalist Scandinavian design. This style tends to focus on keeping the look of the room clean, neutral and simple. For instance, modern sofa sets paired with a comfortable rug and warm, wooden coffee table perfectly combine many of the elements of this style.
Benefits of Minimalism
In addition to having a more open and clutter-free space, minimalism has many other benefits. From saving money to gaining freedom and even increasing your daily productivity, there are a variety of ways that minimalism can positively impact your everyday life:
You Save Money: Cutting down on expenses for clothes or home goods prevents you from spending unnecessarily. If you start limiting your purchases to the necessities, you'll begin to see the savings add up.
A Way to Prevent Stress: Less stuff can translate to lower stress levels. With fewer extraneous items lying around, it becomes much simpler to stay organized. When you only have what you need, it's easier to feel relaxed and at ease.
Cleaning Is a Breeze: You can significantly cut down on the time you spend cleaning and tidying up with a minimalist design.
Helps You Focus on What Matters: Creating a sense of peace around the home and removing messes from your life can help you realize what's important. Instead of spending time and money collecting things, you can choose pieces that have real value to you.
Challenges of Minimalism
Minimalism for beginners can be a challenge, too. The transition may seem like a lot to manage, but if you encounter any of these stressors or situations, keep in mind why you're making these changes.
It Can Be Time Consuming: Sorting through possessions can take time, especially if you're just getting started. Remember to be patient and to trust the process. If you're stressed because of a hectic schedule, begin by getting rid of one item a day and go from there.
You May Feel Overwhelmed: Maybe you feel like you have too much stuff in your home and you're unsure of where to start. If this is the case, try making a game out of it and turn the process into something you enjoy doing.
You Have the Urge to Shop: Breaking old habits can be difficult, especially when you're used to going out and buying on a whim. Take this opportunity to focus on pieces that mean something to you. With the money you'll save, you can focus on quality over quantity.
Your Space Seems Empty: Once you begin transitioning to a minimalist lifestyle, your home can seem barren. However, while you may have fewer things in your space, the items that you do keep will have a more significant meaning.
Tips to Go Minimalist
A key part of this shift in mindset is taking the time to consider why you're doing it. Are you trying to cut back on spending? Simply running out of room in your home? Once you set this idea in motion, how will you stay organized? Do you have a list of goals in mind that you want to accomplish? Consider these helpful tips to help stay on track.
Identify Why You Want to Try Minimalism
As with anything, determining the reason you're doing something is half the battle. If you understand why you're practicing these ideas, you're more likely to stick with it when you feel frustrated. Try making a list to help figure out your priorities and decide what's most important in your life.
Organize and Declutter Your Items
Once you start, you'll realize how important it is to have a decluttering process. For instance, you can create piles: one to keep, one to donate and one to sell. If you need some extra help keeping everything in order, multipurpose furniture and storage items are your best friends.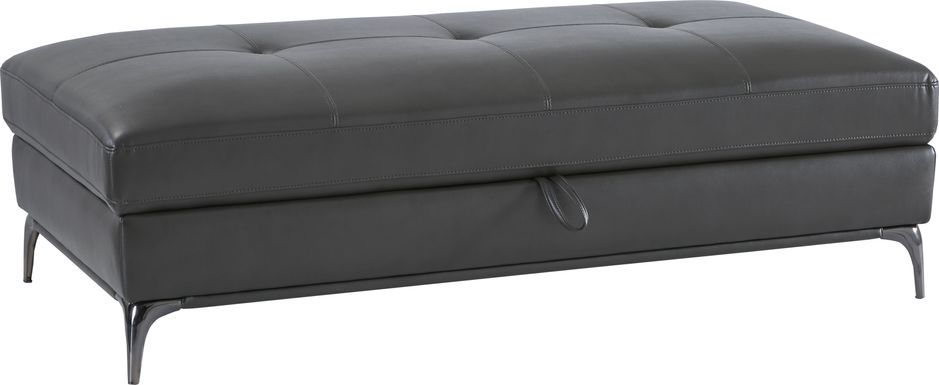 Sofia Vergara Via Sorrento Granite Storage Ottoman
An unforeseen benefit of decluttering your home is just how free you'll feel once all of the unneeded things are gone. Floor plans can seem more spacious, while having clean, empty hallways can create a sense of freedom. Once you've completed your minimalist makeover, you'll see your home in an entirely new light.
Create Realistic Goals and Rules
When first starting, remember to think on a smaller scale and take your time. Even with the best plans and intentions, decluttering your entire home will take time. Going too fast or trying to get everything finished at once can cause stress and anxiety. Instead, choose one room to work on at a time, such as your master bedroom, and go from there.
Find Your Aesthetic
Many people believe that a minimalist lifestyle means a home devoid of design. While you may have fewer items to work with, the pieces you do have will make an even bigger impact. For example, you can decorate empty walls to create a chic focal point. Remember to look for furniture that prioritizes comfort and functionality so you can get more out of the furnishings you have.
Reuse and Recycle
Repurposing and reusing older items around your home is a great alternative to simply tossing them out. Instead of throwing away an old chair that doesn't fit your new design or color scheme, simply repaint it. You could also try refinishing or upholstering weathered-looking furniture to give it a fresh look.
Is Minimalism Right for You?
Even if you aren't sure that living a minimalist life is best for you, adding some of these practices to your everyday routine can help reduce stress and clutter. By starting small, like removing one item a day or decluttering a single room, you'll soon realize how quickly these steps can add up to big changes.