Pet Friendly Living Room Furniture
How to Choose Pet Friendly Furniture
If you're an animal lover, you know the joys of curling up on the sofa with a sleepy puppy or a purring kitten. As wonderful and cuddly as they are, our beloved canine and feline companions can be tough on fabrics and furnishings, so it's important to find pet-friendly furniture that can stand up to fur, claws, and the inevitable accident.
Check out these suggestions to learn how to choose dog- and cat-proof couches and chairs that the whole family can enjoy.
Best Couches for Dogs and Cats: Key Elements
There are a few major factors that you'll need to think about when shopping for pet-friendly furniture:
Durability: The best sofas for dogs and cats withstand heavy use while repelling spills and stains.
Cleaning: Regular vacuuming and spot cleaning are a must, so look for pieces with color-fast dyes and snag-resistant material.
Color: Select shades that are similar to your pets' coats. For example, if you have a black Labrador, you might want to opt for a darker palette.
Choosing Pet-Friendly Furniture Upholstery
While you may have to forgo delicate fabrics like silk, chenille, or velvet, there are plenty of gorgeous textiles available for pet-friendly couches. Here are some practical and attractive options: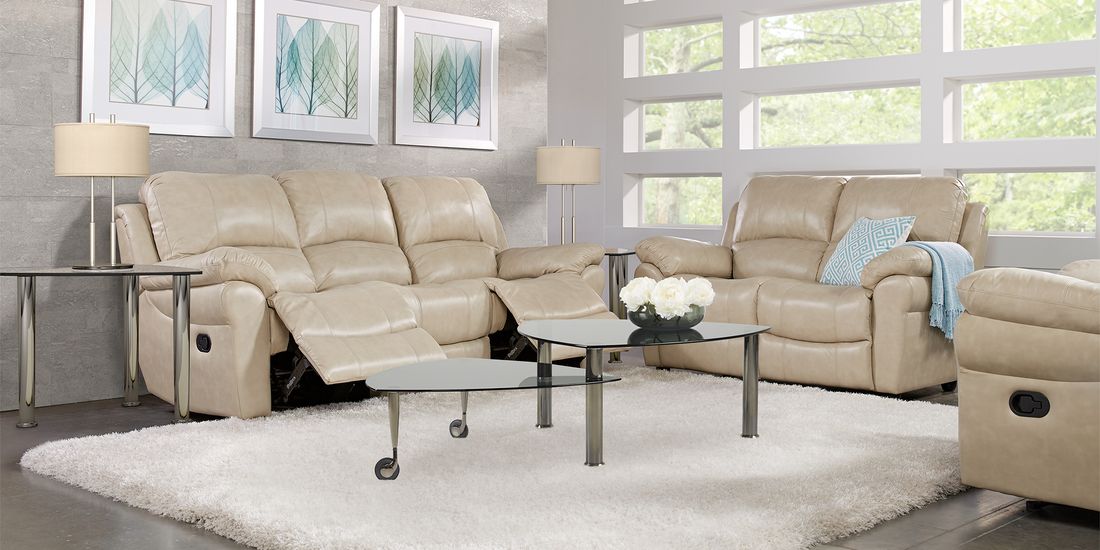 Durable and Easy to Maintain Furniture is a Necessity for Pet Owners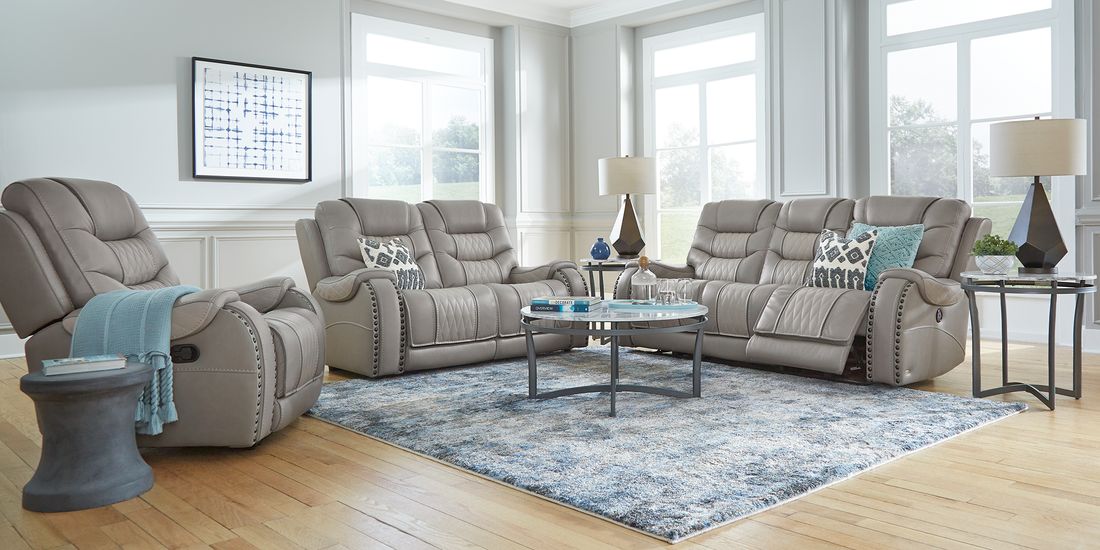 Leather Living Room Sets make Durable Options for Pet Owners
Pet Proof Leather Furniture
Leather is resilient as well as beautiful. Smooth and non-absorbent, this material is easy to vacuum and polish as needed. You can also buff away scuffs and scrapes, or allow natural wear to create a lovely patina. For optimal strength and lasting quality, be sure to choose top or full grain leather sofas or sectionals.
Performance Fabrics Whisk Away Pet Messes
Another option that's economical, stylish, and functional is performance upholstery. These specially engineered textiles have a tight weave that repels dirt and moisture, and the soft material allows you to wipe up messes with a damp cloth. Plus, the flexible surface resists punctures and scratches, so it's perfect for a cat-proof couch.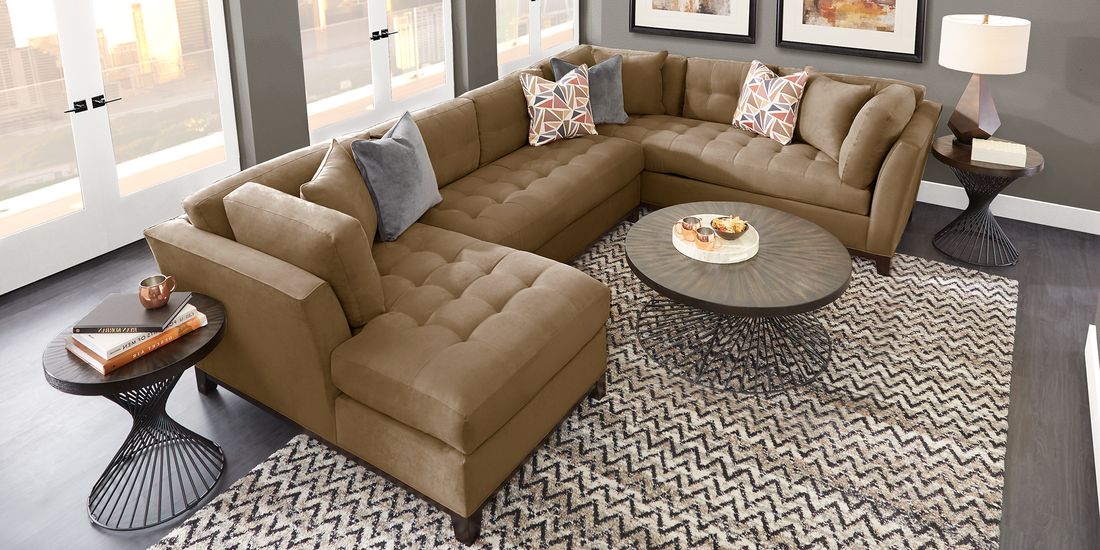 Neutral Colored Microfiber Living Room Sets offer Easy to Maintain Pet Friendly Furniture Options
Sets featuring Sunbrella Cushions Give Pet Owners an Easy to Clean Alternative Fabric
Outdoor Fabrics for Furry Friends
If you want to maintain a spotless home, outdoor fabric is a smart choice. Designed to dry quickly and stave off bacteria, these pet-friendly couches, sectionals, and chairs come in a wide variety of styles that work just as well indoors as they do outside. Modern patio sets are comfortable and durable, making them ideal for homes with animals.
Removable Covers
A washable, removable pet couch cover is a convenient solution to protect your sofa. Search for customized slipcovers that fit the exact measurements of your furniture for a tailored look. When your pet couch covers get dirty, just toss them into the washing machine, and they'll come out good as new.
Give Your Pets Their Own Space
Is the goal to keep your puppy or kitten off the furniture altogether? Train them to sleep on a high-quality pet bed. Available in a wide range of colors and designs, these pieces complement your decor while giving your dog or cat a cozy place to snooze. Whether you use a basic floor pillow or a luxurious pet-sized sofa, your companion will have a safe, comfortable space all their own.
Other Considerations for Pet Friendly Rooms
Several other factors come into play when deciding on a pet-friendly couch. Here are a couple of the most important points to ponder:
Don't Sacrifice Decor
Pet owners often think they need to sacrifice their design aesthetic for the sake of having a dog or cat-proof couch. In truth, many fashionable living room sets can endure heavy daily use. The first step is taking the time to explore your choices before making a purchase.
Begin your search by browsing styles you like and then narrow your scope to fabrics that can tolerate the wear and tear of paws and claws. Whether your tastes are cool and contemporary or warm and traditional, you'll find a vast array of pet-friendly furniture options to suit your tastes.
Disguise
While low-maintenance upholstery is essential when you have pets, fur will still accumulate between vacuuming sessions. A chic pattern or texture is one of the most effective ways to keep this in check. Seek out timeless prints like bold florals, classic ikat, or geometric shapes, so your sofa always looks good, even if you skip cleaning day.
Accessibility
Ensure that your furniture allows your animals to get up and down safely, as puppies, kittens, and senior pets can have trouble jumping onto higher surfaces. Low-profile, pet-friendly couches make it easier for them to navigate their living space.
To help older or impaired dogs and cats gain access to your pet-friendly furniture, opt for ramps or sets of stairs in hues that blend in with your palette. Search for carpeted models if you want a discreet, solid color piece, or choose short, wood-framed staircases to complement classic decor.
Creating Harmony
Cuddling up with a beloved pet develops a strong, comforting bond and creates treasured memories. Maintaining a stylish home, while providing a welcoming environment for your puppy or kitten, is all part of caring for your furry companions. Choosing the best couches for dogs and cats ensures that everyone gets to enjoy quality time together for years to come.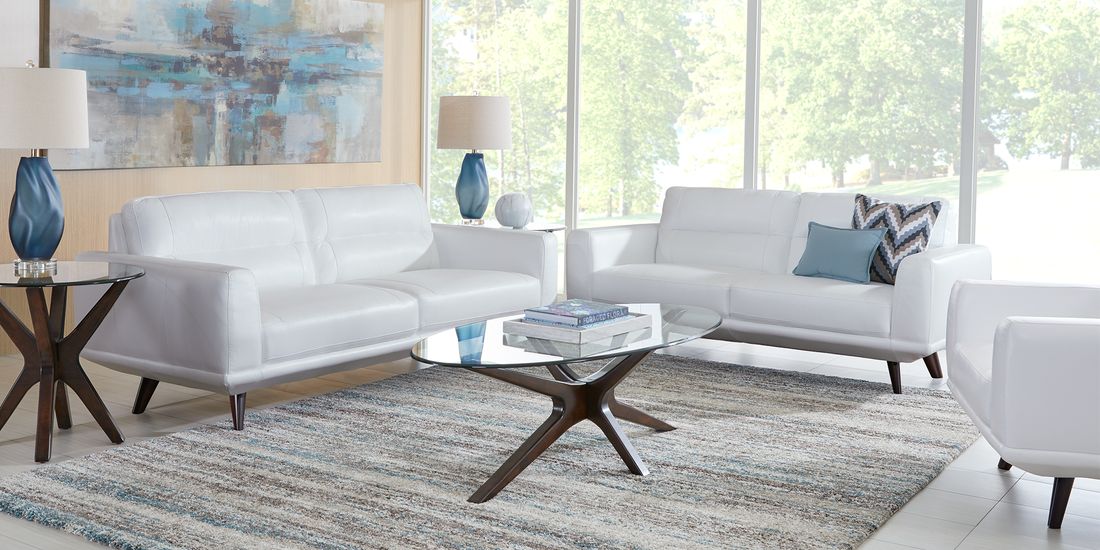 Modern Living Room Sets Offer Simple & Tasteful Solutions with Minimal Compromise to Your Pets